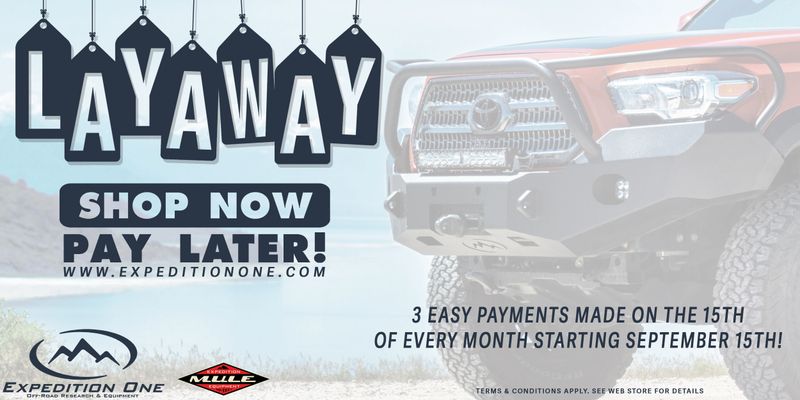 Layaway Sale! - Shop Now, Pay Later
FAQ
What does the promotion provide?
Receive 20% off all Expedition One products and a $100 shipping credit with the first of three payments due shortly after checkout!
How do I pay for the product at a later time?
Select Pay & Call at checkout and the first of three payments is due at time of checkout. The remaining two payments will be pulled on October 15th & November 15th with credit card provided. You also have the option to make these payments sooner or in full at any time if your product is ready to ship early!
Can I just pay the full amount now?
You certainly can! Instead of choosing 'Pay & Call', simply checkout through normal means with your preferred payment method.
Will I get my product(s) before the holidays?
If you place your order before September 30th, you should receive your order in time for the holidays*
*

Newly released, custom, or non-standard items may not be eligible for holiday delivery schedules. Inclement weather, material availability, freight processes and other processes outside the control of Expedition One can effect delivery times.